Who won World Cup battle of sporting brands?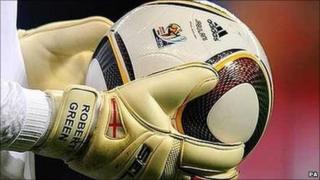 The World Cup was not simply a contest between teams in slipper-like shoes kicking around the modern-day, hi-tech descendant of a pig's bladder, but a gladiatorial battle between brands such as Adidas and Nike.
Adidas took the route of being an official sponsor - something it has done since 1970.
But why did the firm spend a reported £75m to be one of Fifa's top-tier partners at the competition?
"With the World Cup," explains Adidas spokesperson Steve Marks, "we have underlined our global share of football marketing and we will achieve record sales in 2010."
More than 6.5 million replica jerseys have already been sold, says the firm, which doubles the sales figures of 2006.
And, according to market researchers Sport + Markt, Adidas had the greatest visibility in terms of teams and players.
In response, Nike's recourse was to emphasise its existing sponsorship of individual teams and players.
"Nike was not an official sponsor at the World Cup, yet they were presumed to be a sponsor," says Interbrand's Managing Director in London, Graham Hales.
"Their success in sponsoring players is that you can recognise the flash on their boots," he says, "so Nike looked like they were part of the official sponsors of the event."
Brand awareness
What brands are paying for is the stature and authority of sponsorships.
To be seen as being a World Cup sponsor puts any brand into the major league.
Not only official sponsor Adidas, but also Nike spent small fortunes to make their presence felt at the World Cup - yet is it money well spent?
"There are events when you can look at huge demographics and know what they are thinking and you can tune your brand into that particular moment," says Graham Hales.
He points out how some events are newsworthy in their own right, but what if sponsors decide to back a losing team or player?
"It is not as overt as to who is winning, but the spirit in which they play," he says.
"If people lose badly but play with the right spirit, there is still a degree of value which can be got from that," he asserts.
"Sport is an emotional experience - people support teams they know are going to lose."
Subtle message
Another way of getting a sponsor's message across is by product placement.
But rows of orange drink containers lined up on the table at a Spanish press conference do not necessarily make people want to buy it.
"If it is too overt and gets in the way of things, then it is not going to work," explains Graham Hales.
"If it looks like a product the team is actually using, and that they are endorsing it as a refreshing drink which energises them after a game of football, then you start ticking the boxes," he says.
There is big money involved and rates vary significantly.
"It is a murky and mysterious world and it is very difficult to get hold of the actual figures," says Mr Hales, adding that if a product is no good, then nobody will buy it.
"They have to ultimately deliver, so creating awareness is only one part of it. You have to have a product that people value and are prepared to pay for."
Football pitfalls
But despite their huge spend, Adidas and Nike also found that backing football can be a "game of two halves" off the pitch as well as on it.
Adidas designed the Jabulani match ball used in all the games - the same ball which England's goalkeeper Robert Green allowed to slip through his fingers, causing some pundits to comment that the flight of the ball was at fault.
The allegedly more aerodynamic ball had been blamed as being too hard to control.
"The ball was launched in December 2009," says Adidas.
"Since then it has been used in the United States, Germany and Argentina without any negative comments."
Apart from sponsoring individual players and teams, Nike also created an advertisement featuring some of the biggest names in the game.
Within the first week of its release on YouTube, the three-minute spot broke previous records with an unprecedented 7.8 million views.
It seemed Nike had perfected the art of ambush marketing - until the advertisement itself was ambushed by events beyond Nike's control.
One by one, the featured star players shuffled away from the world stage before living up to their highly-renumerated reputations.
So rapid and disappointing was the demise of the game's exalted players, there was talk of the "curse of the Nike ad".
It could be said that the ball is simply an inanimate object, whereas it is the players themselves who are responsible for the excitement of the game.
In the dying moments of extra time in the World Cup final, it was an Adidas ball being kicked into the goal by a player wearing Nike boots which made Spain the world champions.
So as far as the the global audience was concerned, the battle between the two conglomerates was probably a draw.