China's Mr Golf looks to tee up business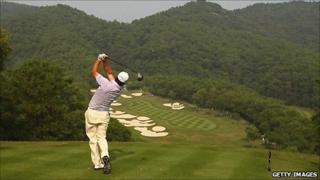 For the sport and business of golf, China is the future, as it is with so many sectors of the global economy.
Unlike the low-growth golf-playing talent pool in the US and other countries, China expects a boom in the numbers taking up the game - soaring from a few million now to 20 million players by 2020.
And perhaps the biggest physical symbol of this intent is the Mission Hills 12-course golf complex in Shenzhen.
The $1bn complex, which is open virtually around the clock, was initially created by billionaire businessman Dr David Chu in 1992. Over the years, it steadily grew in size and is now run by his son Tenniel.
So what drove them to build what is now a massive 20 sq km complex of 12 golf courses, complete with shopping and conference centres, tennis courts, spas and luxury residencies?
"With the Chinese booming economy and the new economic reforms, my father felt China needed a new lifestyle to showcase itself to the world," says Tenniel Chu, who is in Scotland attending the Open Championship.
"He also wanted to develop resorts to help develop golf in China - as this has only been a golfing nation for 25 years."
Tenniel Chu says that as well as fulfilling a sporting need, Mission Hills has a role to play in promoting Chinese business.
"A lot of investment will come into China because of people from overseas coming to Mission Hills," says the native of Hong Kong.
"Foreign investors can see if Mission Hills can work in China, it gives them confidence in China's new economy.
"And by investing in something immovable and permanent - unlike, for example, a factory, which can be moved elsewhere - we also showed outsiders our own confidence in the project, and confidence in the golf business in China."
'Island investment'
At Mission Hills Shenzhen and its sister Mission Hills Haikou complex in Hainan province, more than 10,000 jobs have been created, says Mr Chu.
He also says they created infrastructure around the courses, such as roads, and as the Shenzhen course was built between the main city and the suburb, it has helped bring those two areas socially closer together.
Furthermore, he believes the courses serve another commercial role by offering a "place to network and to do business".
Now work is under way expanding the second Mission Hills complex in Hainan province, an area that Mr Chu says is being developed as an international tourist island or "Hawaii of the East".
Mission Hills Haikou is based in the capital of southern China's Hainan Island and opened this spring.
Two courses are currently open, as part of a government-led initiative to make tropical Hainan a leading international tourism destination.
Mr Chu is coy about how much this multi-billion development, which could eventually have as many as 22 courses, is costing.
But the economics graduate says that the complex is "providing the first important investment into the island".
'Environmental concerns'
However, there have been questions asked about whether as much as 80 sq km of land should be used for golf courses rather than crop-growing or fruit trees, as some have argued.
And there have been environmental concerns over such a large development.
"Certainly the environmental issue is a main concern to us," says Mr Chu.
"And as the world's largest population, we also have to think about feeding people before golf."
He adds: "We chose non-agricultural land, on volcanic lava rock where there is no topsoil, no agriculture could take place on that. In fact, we are having to import topsoil for the courses."
Mr Chu also says that the golf complex will provide an employment option for traditionally low-paid agriculture workers.
Again, there are worries that those low incomes mean locals will not be able to attend the showcase 2011 golf World Cup on Hainan Island.
"Hainan is the only province in China where they have put golf as their official provincial sport," ripostes Mr Chu.
He also says that over the next two to three years, there will be between 50 and 60 new courses built in the province.
"This is the only province where golf is booming, there is no other province where it is growing so fast, and where global firms are looking to get involved in China," he says.
"This complex will help establish Hainan."
'Grass roots'
And he says the Mission Hills complexes are helping to raise a whole new generation of golf enthusiasts.
"Golf has often started in other countries from the elite, but we hope we try to bring the game to the mass public, as we have done a lot of grass roots development of players."
Mission Hills has brought the World Cup to China and hosted the Asian Amateur Championship in 2009.
It has set up events with the likes of Jack Nicklaus and the Asia Pacific Golf Confederation and created a number of junior programmes backed by Nick Faldo, Jack Nicklaus and Greg Norman.
"China is experiencing annual growth in playing numbers of between 50% and 60%," adds Mr Chu.
"By the year 2020, we will easily have over 20m golfers in China, and that is only 2% of the population.
"There is still a lot of room for the game to grow, particularly with golf being in the 2016 Olympics to drive interest. I see a very bright future for the game in China."
He says the government and other authorities are supporting different golfing programmes, and resources to develop new courses.
Now Mr Chu is visiting the Open Championship at St Andrews which starts today. Is he here to combine business with pleasure?
"I think I will spend most of my time doing business. Visiting events like the Open is the best way to meet people from the world of golf and golf industry.
"My friends think I am here to enjoy myself, but I always end up trapped in my hotel room or the hospitality tent.
"But it is all part of helping to grow the game in China and globally, and ensuring China is a global player in the world of golf."