Asda advert banned in rights row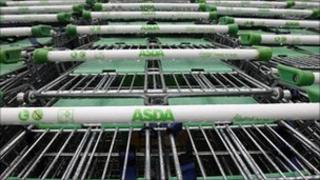 Supermarket giant Asda has been censured by the advertising watchdog for presenting a basic right as a shopping deal.
An advert promoted a new 100-day returns policy for its clothing range but, by rights, shoppers actually have much longer to return any faulty goods.
The retailer's advert said that it wanted to end "throwaway" fashion on the High Street.
The television commercial was banned by the Advertising Standards Authority.
Guarantee
The advert suggested that shoppers could "enjoy quality that lasts". It said that its George clothing range offered a "100-day quality guarantee".
However, a viewer complained to the ASA, pointing out that the Sale of Goods Act meant shoppers had more time to return goods that were not of satisfactory quality.
Asda said that the guarantee meant people could take clothes back within 100 days, just because they had changed their mind - rather than because the items were faulty.
It also suggested that staff had been told of the difference between faulty goods and the "quality list" covered by the guarantee.
But the ASA upheld the complaint.
It confirmed that consumers have up to six years to take action for breach of contract. For the first six months after purchase, the onus is on the seller to prove that an item was not faulty when it was sold.
"We considered that consumers were likely to expect even low-price clothes to last 100 days without the fabric quality deteriorating by, for example, bobbling or stretching or fading in colour," the ASA ruling said.
"We considered that the George 100-day guarantee, as presented in the ad, did not offer any more consumer protection, in relation to the obligation for a seller to provide goods of a satisfactory quality, than that already available under statutory legislation."
The advertising campaign was launched shortly after Marks and Spencer cut the deadline on its returns policy - for items that customers decided they no longer wanted - from 90 days to 35.