US retail sales fall for a second month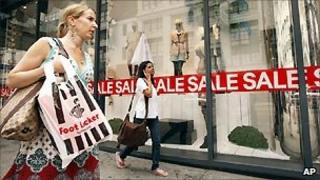 US retail sales fell again in June, hit by a drop in sales of petrol, cars and building materials.
The Commerce Department said total retail sales fell by 0.5% in June, following a downwardly revised 1.1% fall in May.
Compared with June last year, sales were 4.8% higher.
Consumer spending accounts for two-thirds of the US economy, and the weak figures come on top of disappointing home sales and factory activity data.
Much of the weakness came from a fall in car sales and a drop in petrol prices.
Excluding these two criteria, sales would have risen by a slight 0.1% in June.
Markets had expected sales, excluding cars, to be flat and there was no adverse market response.
Takings at sporting goods, hobby and book stores fell 1.4% in June, compared with a 0.3% rise in May.
However, purchases at electronics and appliance stores were up by 1.3% and clothing sales rose 0.6%.