Marks and Spencer shareholders support boss's pay plan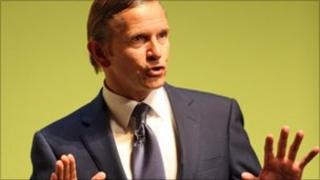 Marks and Spencer shareholders have given their resounding support to the company's executive pay plan, despite complaints about the controversial £15m pay package offered to its new boss.
Marc Bolland's pay deal was expected to be voted down by many investors, but 83.8% of voting shareholders endorsed the firm's remuneration plans.
Some 7.9% opposed them while 8.3% abstained, M&S said.
However, some shareholders described Mr Bolland's pay as "obscene".
And others said it was "asking for trouble."
Golden hello
Mr Bolland's pay package included a £7.5m 'golden hello' as an incentive to leave Morrisons, and an annual bonus of up to 250% of his £950,000 basic salary. He was also awarded M&S shares.
The company's executive chairman, Sir Stuart Rose, emphasised to shareholders more than once that the majority of Mr Bolland's pay packet would only get paid out if he met demanding performance targets.
For his own part, Sir Stuart already agreed in March to a 25% pay cut until he leaves next year, in order to placate shareholders.
Investor anger has been fuelled because last year M&S cut its dividend for the first time since 2000. The pain, say critics, is not being shared.
Shareholder revolts
Marks and Spencer management will be breathing a collective sigh of relief at the vote, having faced shareholder revolts at both of the last two annual meetings.
At last year's AGM, more than a fifth of the shareholders who voted refused to back the re-election of Mr Rose to the board, because of his dual role as chief executive and chairman at the time.
Mr Rose subsequently chose to step down from the chief executive role, creating the vacancy that Mr Bolland was then hired from rival supermarket Morrisons to fill.
Other companies have also faced anger over executive pay recently.
Earlier this month, 47% of Tesco shareholders either voted against its boardroom pay policy or abstained.