Takeover Panel bans investor Brian Myerson from deals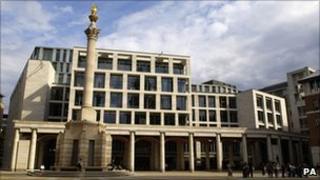 The Takeover Panel has banned South African investor Brian Myerson - along with two others - from the financial services sector for three years.
The watchdog's appeals panel said the three colluded to take control of Principle Capital Investment Trust in March last year, and should have offered to buy out other shareholders.
Mr Myerson was later ousted as the fund's head by a shareholder revolt.
They are now banned from UK financial dealings, known as "cold shouldered".
Under the three year ban, they may not do any business with any person registered with the Financial Services Authority. Effectively a bar on doing business in the UK financial services sector.
The Panel added that Mr Myerson - along with his business partners Daniel Posen and Brian Padgett - had "knowingly and deliberately persisted in misleading" its enquiries.
Mr Myerson has denied any wrong-doing.
"I am now examining what legal options are open to me, including a challenge in the European courts and whether the Panel exceeded its authority in acting as it did," he said.