Crown Estate makes £211m surplus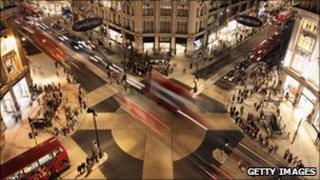 The Crown Estate made a surplus of £210.7m in the year to March, which will be returned to the Treasury.
This was a 7% fall on a year earlier, primarily because low interest rates reduced the income generated on its cash reserves.
The estate is owned by the Queen, but revenues are returned to the taxpayer.
Its portfolio includes Regent Street, Ascot racecourse and Windsor Great Park, as well as 360,000 acres of rural land and 55% of the UK's coastline.
"Despite the worst recession that most of us have experienced, thanks to the diversity and quality of our portfolio and the efforts of our staff we have delivered a good set of financial results," said Roger Bright, chief executive of the Crown Estate.
"Our results should be read in the context of our obligation not to chase short-term income returns, and our statutory restrictions on borrowing, which increases our exposure to low interest rates."
The capital value of the estate's portfolio rose 10.4% over the year to £6.6bn.
Over the last 10 years, the value of its property portfolio has increased by £2.6bn. It has paid £1.9bn to the Treasury over the same period.