Homeowners raise stakes in homes, says Bank of England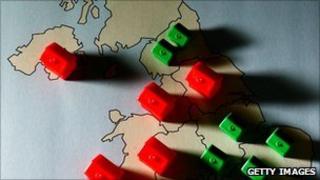 UK homeowners increased the value of their stakes in their properties by £3.2bn in the first three months of 2010, figures show.
The injection was slightly lower than the £3.4bn increase of the last quarter of 2009, the Bank of England's figures reveal.
The rise was due to homeowners paying off more of their mortgage and lenders' demands for higher deposits.
It is now two years since equity was last withdrawn from homes in the UK.
UK homeowners raised the equity levels in their homes by £38.3bn in the last two years.
In the two years prior to that they borrowed £87bn against the inflated value of their homes, often to spend on big-ticket items or to consolidate debt.
Trends
The figures make clear the changing behaviour of homeowners over the last decade as well as the changing housing market.
People were spending money released from the rising value of homes for a decade from the third quarter of 1998 - borrowing a total of £327bn.
At the height of equity withdrawal in 2003, the process of borrowing money against the rising value of homes was adding nearly 9% a year to the post-tax income of the entire UK population.
In the first three months of 2010, some 1.3% of the post-tax income of the population has been taken out of the economy because people decided to reduce their mortgage debt instead.
Low interest rates, as well as people's fears of future debts or job losses, have led homeowners to pay off their mortgage faster than previously. As a result, these repayments have outstripped equity release.
With mortgage rates at low levels, people have decided to "overpay" while on standard variable rate home loans.
With house prices dropping, the opportunity to borrow against housing equity also reduced.
However, in late 2009, the value of extra equity being added slowed down, as house prices started rising again gently.
Pensioners
"The eighth successive, and still marked, net injection of housing equity in the first quarter of 2010 is the consequence of the ongoing desire of many people to improve their personal balance sheets," said Howard Archer, of IHS Global Insight.
"Furthermore, extremely low savings interest rates have made it much more attractive for many people to use any spare funds that they have to reduce their mortgages."
A recent survey by Age UK suggested that equity withdrawal was still being used by some sections of society as a last resort to pay off debts, or to find money when savings are being whittled away.
Some pensioners are unlocking equity to pay for a more comfortable retirement and some are using the money to hand down to their family or make big purchases, the report said.
The charity said that during tough economic times, pensioners were finding it more difficult to live on a pension, and their savings were getting only small returns. Some were using equity release to pay for things such as home repairs.
However, unlike the Bank of England's figures, the Age UK research only reported on the experience of a relatively small sample of 533 equity release customers.