When business spats go public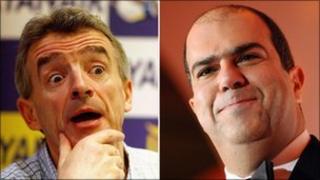 In the latest spat over advertising between Ryanair and Easyjet, Michael O'Leary, chief of the former, has publicly apologised to Sir Stelios Haji-Ioannou, founder of the latter, for depicting him as Pinocchio in a set of adverts.
Sir Stelios dedicated the victory to "all those members of the travelling public who have suffered verbal abuse and hidden extras at the hands of O'Leary".
The two airlines have a history of referring each other to the Advertising Standards Authority, with both sides publicly accusing the other of making misleading claims.
Sir Stelios described his relationship with Mr O'Leary as "non-existent", but told the BBC that with any two companies who compete with each other, there is going to be an "element of antagonism".
But Mr O'Leary and Sir Stelios are not alone in taking their business spats public.
Sir Richard Branson and Willie Walsh
In another airline rivalry, Virgin Atlantic boss Sir Richard Branson's beef with British Airways predates Willie Walsh, and stems from his longstanding opposition to the proposed tie-up between BA and American Airlines.
Nonetheless, there have been many tit-for-tat jibes exchanged between the two men.
In 2008 Mr Walsh accused Sir Richard of sounding like a "cracked record" over Virgin's "No Way BA/AA" campaign. "The times have changed and I suggest he moves with them as well," he said.
While Sir Richard's claim that Virgin kept BA "honest" also riled Mr Walsh.
In the wake of the price-fixing scandal that resulted in BA being fined £270m, Sir Richard claimed to have discussed price-fixing during an edition of the BBC's Money Programme.
But Mr Walsh disputed this: "I still cannot recall 'Honest' Richard Branson giving any personal interviews about the issue."
Sir Richard's response? "It is no wonder that BA is in the state it is in if Willie Walsh has the time to watch past editions of the Money Programme."
Anil and Mukesh Ambani
There is no love lost between these billionaire brothers from India.
Their father Dhirubhai Ambani built up the Reliance empire but he died in 2002 leaving no will, and his wife later divided it between their sons when it became clear that they could not work alongside each other.
Older brother Mukesh kept the oil, gas and petrochemicals businesses while Anil got Reliance Energy, one of India's biggest power utility firms, the telecommunications company and the finance arm.
Since then, the two have accused each other of lying, misleading shareholders and delaying the process of dividing the businesses between them, and have quarrelled over gas prices.
Adi and Rudolf Dassler
German brothers Adi and Rudolf Dassler started making sports shoes together in their mother's wash-room in the 1920s.
They fell out during World War II, probably over political differences, and Rudolf left the family firm to set up Puma, while Adi renamed the company Adidas.
The rift between the two men also split the Bavarian town of Herzogenaurach where the companies were based, with residents loyal to one or other of the only major employers.
Even though neither group is now controlled by the descendants of its founding families, the feud between the companies lasted for over 60 years.
In September 2009, employees from both firms shook hands and played a football match in Herzogenaurach - the first joint activity held by the companies since the brothers left their shared firm in 1948.