Siemens signs railway and wind power deals in Russia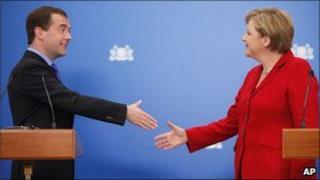 German engineering giant Siemens hopes to get "multi-billion-euro orders" from Russia after signing memorandums of understanding with Russian firms.
Siemens and Russian Railways (RZD) plan to modernise 22 railway switching yards in Russia and jointly produce 240 regional trains.
The deal could be worth 2.2bn euros ($2.8bn, £1.8bn), according to German government officials.
During German Chancellor Angela Merkel's visit to Yekaterinburg, Siemens also signed a wind power agreement.
The company plans to install wind turbines and create three joint ventures with Russian firms "in order to manufacture most of the products in Russia", Siemens said in a statement.
It also committed to joining Russia's drive to modernise its economy, becoming "a partner in the new Skolkovo Innograd Foundation in Yekaterinburg".
"Skolkovo Innograd will establish a research centre devoted, among other things, to energy efficiency," Siemens said.
'Strategic partnership'
Mrs Merkel and a large business delegation from Germany have been in Yekaterinburg as part of a five-day visit to Russia, China and Kazakhstan.
Germany is the main European trading partner of both Russia and China.
"I very much expect that German firms, which have huge experience in this area, will take part in this [modernisation] work, Russian President Dmitry Medvedev said at the Yekaterinburg summit.
"Taking into account the strategic partnership in the economic sphere, I believe the prospects here are not too bad."
Among other business deals signed in Yekaterinburg, German development bank KfW and Russia's Vnesheconombank to fund Russian regional small and medium businesses with 100m euros.