US consumer prices fall for third month in June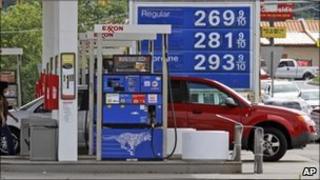 The US consumer prices index fell for the third consecutive month in June, raising fears of deflation.
Prices fell 0.1% from the month before, adding to falls of 0.2% in May and 0.1% in April, the Labor Department said.
Falling energy prices were the biggest contributor, down 2.9%, while food prices remained unchanged.
"Core" inflation - a measure that strips out volatile energy and food prices, and used by economists to judge long-term inflation trends - rose 0.2%.
The US Federal Reserve has already pumped some $1.2 trillion (£780bn) into the US economy to try to promote recovery.
The continued fall in prices will add to pressure on the central bank to take further unconventional measures to push inflation into positive territory.
These measures may include increasing the money supply via further quantitative easing or intervening in the US government bond markets to hold down long-term interest rates.
In recently released minutes from the Fed's June meeting, policymakers raised the possibility of further action later this year, if the economy slows down further.