US banks profit as consumer loan books recover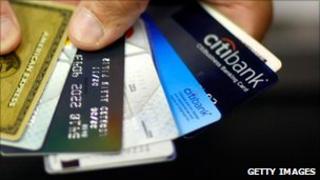 Bank of America and Citigroup have joined JP Morgan in reporting profits helped by better loan repayments.
Citigroup earned second-quarter net income of $2.7bn (£2bn), while Bank of America made $3.1bn in the same period.
Like JP Morgan, who reported Thursday, both banks beat market expectations, thanks to falling losses on their loans to US homeowners and consumers.
But poor trading revenues worried markets, leading to a 6% fall in Bank of America's share price.
Citigroup also fell, by some 4%, in the first minutes of New York trading.
Struggling for business
The picture that emerged from the accounts was of banks who are benefitting in the medium term from better repayments by customers.
But falling or stagnant revenues do not bode well for the long term, suggesting that the banks are struggling to expand their underlying businesses.
Both banks reported lower profits than in the same period a year ago, although this was not unexpected.
Citigroup's net income was down 37% on 2009, mainly because last year's number was exceptional, and because it has since slimmed its business down by spinning off brokerage Smith Barney.
Meanwhile Bank of America (BoA) was down a mere 3% from the $3.2bn it earned last year.
Painful markets
All three US banking giants found their bottom lines sapped by a poor performance from their investment banking divisions.
Trading income was less healthy, largely because of a steep fall in markets during the spring that brought the post-recession bull market to an end.
BoA's investment bank - most of which comprises the broker-dealer Merrill Lynch that BoA bought in 2008 - saw profits fall to $927m, from $3.9bn a year ago, and from $3.2bn the previous quarter.
Most worrying for the stock market was that revenues at the division - a measure of the overall scale of business the bank is doing in financial markets and corporate advice - had dropped 40%.
Citigroup did somewhat better. Its securities and banking division earned $1.7bn profits in the quarter, down only 8% from a year ago, though this was down 42% from a very strong first quarter.
"Positives were partially offset by lower trading account profits, reduced mortgage banking income and increased costs associated with the United Kingdom payroll tax on certain year-end incentive payments," explained BoA in its report.
The weak numbers may be a bad omen for Goldman Sachs and Morgan Stanley, who focus almost exclusively on financial markets and advisory business, both of whom report next week.
Bouncing cards
Credit losses - due to non-payments and defaults on the banks' lending - fell versus the first quarter at both banks, following the precedent set by JP Morgan on Thursday.
BoA has seen marked improvement in customer payments on home loans, corporate loans and particularly credit cards since last year.
The bank's card services division has rebounded strongly, with losses down by almost half since last year to $3.8bn, helping to bring credit losses across the entire bank down 39% to $8.1bn.
"Credit quality improved even faster than we expected," said Bank of America chief executive Brian Moynihan.
At Citigroup, however, the story was quite different.
Losses at the bank, which was rescued by the US government from the brink of bankruptcy in 2008, only peaked in the first quarter of this year.
In the latest quarter, total credit losses of $2.9bn - the bulk of which came from its credit cards business - still remain around double their 2009 levels.