US stocks down on recovery fears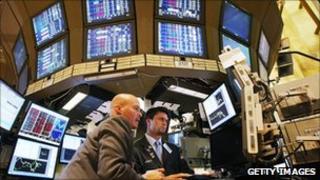 Leading US stock markets tumbled more than 2.5% as poor company results and fresh economic data hit investor confidence in the economic recovery.
On Wall Street the benchmark Dow Jones Industrial Average fell 2.5%, while the S&P 500 index was down 2.9%.
Shares in Citigroup and Bank of America were hit, with both reporting falling revenues.
US consumer confidence also fell to its lowest level since August 2009, according to one report.
The poor results were not limited to US banks, however, with General Electric also down 5% after reporting falling revenues, despite a rise in profits.
Google also worried investors, with its profits for the last three months falling short of expectations for the first time in its history.
Its shares ended the day down nearly 7%.
Investors warned that the economic recovery appeared to be losing momentum, but denied that a double-dip recession was on its way.
"The economic recovery is still intact," said Jim O'Sullivan, chief economist at MF Global.
Elsewhere, stock markets were also down, though not as steeply.
In London the FTSE 100 ended the day down 1%, while other European markets saw falls of between 1.7% and 2.3%.