Farnborough plane orders revealed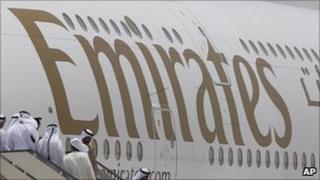 Boeing and Emirates have announced the first order of the Farnborough air show, the world's largest air show.
The $9.1bn (£5.9bn) deal will see Emirates buy 30 Boeing 777 aircraft. Earlier reports had suggested that Emirates would order 20 planes.
Boeing's rival Airbus has also received an order for 51 A320 jets from US group Air Lease Corporation, worth $4.4bn.
The biennial show is normally used as an arena for companies in the aerospace industry to make major announcements.
Emirates had been expected to lead the way with orders at Farnborough, after splashing out $11bn for Airbus A380s at last month's Berlin air show.
Other deals agreed at this year's event include:
GE Capital Aviation Services, the arm of General Electric that leases aircraft, will buy 40 Boeing 737-800 planes with a list value of $3bn and 60 Airbus A320 planes with a list value of $4.5bn
Qatar Airways placed a $122m order for three business jets from Canadian manufacturer Bombardier - two Global 5000 aircraft and a Challenger 605
Russian airline Aeroflot ordered 11 Airbus A330-300s, worth $1.7bn at list prices
Rolls-Royce also won a $650m contract from Aeroflot to supply 24 engines for the new A330 order.
Meanwhile, Airbus' parent company EADS said it would give 10 shares to each of its 119,000 employees to celebrate its 10th birthday.
Troublesome projects
The planes on display at Farnborough, Hampshire, offer a great deal of insight into what is going on in the aerospace and defence industry.
Europe's main commercial manufacturer, Airbus, is showing its A400M military transport plane.
The aircraft is controversial because it is four years late and several billion euros over budget.
The seven European governments that have committed to buy it have stepped in with 1.5bn euros ($1.9bn; £1.3bn) in additional financing to prevent Airbus from pulling the plug on a project that will almost certainly fail to make a profit.
Also late and over budget, the F-35 Joint Strike Fighter is among the main talking points at this year's show.
The US-led project, which has eight other Nato countries on its order book, has proven difficult for Lockheed Martin, the manufacturer, as it has overrun its original budget by two-thirds.
Boeing v Airbus
Ahead of Farnborough air show's official opening, Boeing made a splash with the arrival of the 787 Dreamliner aircraft on Sunday, controversial because a delay of more than two-and-a-half years has been costly and damaging to Boeing's reputation.
The Dreamliner is also central to the future of aviation as it is quieter and less thirsty than its rivals, and thus seems more appropriate to a future where both regulators and customers want less noise and air pollution.
Airbus will be displaying its direct rival to the Dreamliner, named A350 XWB.
Boeing's plane is scheduled for delivery this year. The Airbus plane will not be flying until 2013.
Will you be attending the Farnborough air show? You can send us your pictures and videos to yourpics@bbc.co.uk or text them to 61124. If you have a large file you can upload it here.
At no time should you endanger yourself or others, take any unnecessary risks or infringe any laws.