Eurotunnel reports sharp rise in traffic in first half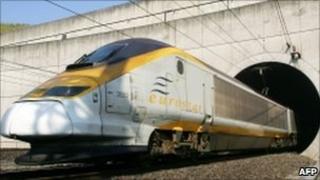 Eurotunnel, the Channel Tunnel operator, has said traffic growth was "significant" in the past six months.
The company said truck traffic via its shuttle was 41% higher and there were 17% more cars using it, too.
And the Eurostar passenger train, which runs through the tunnel, saw a 6% increase in traffic on the same period in 2009.
Eurotunnel revenues rose by 22%, but it reported a loss of 45m euros (£54m), partly because of an insurance dispute.
Settlement over a fire in the tunnel in September 2008 has still not been completed, with Eurostar and Eurotunnel in dispute over insurance responsibilities.
Because of this, 48m euros in indemnities that Eurotunnel is seeking has been held back by a court.
Jacques Gounon, chairman and chief executive of Eurotunnel, warned: "If our insurance payments remain blocked, we shall be unable to declare a profit this year."
Eurotunnel has so far received 157m euros from its insurers following the fire, which led to one section of the tunnel being unavailable between September 2008 and February 2009.
Eurotunnel generates income by charging other freight and passenger services such as Eurostar to use the Channel Tunnel.