Uniq pension plans under threat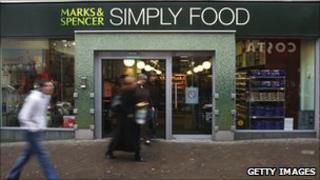 The Pensions Regulator has objected to a plan from the food company Uniq to pay off a massive deficit in its pension scheme.
The loss-making company warned in April that unless its plan went through, the pension trustees might wind up the scheme, putting it into administration.
The Uniq pension scheme had a deficit of £436m as of March 2009.
The firm employs 2,200 staff who make chilled food for supermarket, such as sandwiches, salads and yoghurts.
Uniq declined to explain exactly what the regulator objected to.
But the company said: "[Uniq] has received feedback from the Pensions Regulator following recent discussions concerning a proposed long term framework for its pension fund."
"The Pensions Regulator has stated that the pensions framework, as currently constituted, does not meet all of its criteria for clearance," it added.
Uniq said discussions would continue but it would take "some time" to resolve the issue.
Shares in Uniq fell by 27% to 11p after the announcement to investors.
Shares ended the day down 29%.
'Net cash position'
Uniq at one point relied on a £35m bank overdraft to stay afloat, but the company told the BBC that "due to a number of disposals made last year" it was now "in a net cash position".
The company said that while the trustees had "the power to wind up the scheme, it is highly unlikely (and a long way off) that happening".
"As discussions are continuing [the company] cannot say what the likely outcome will be but essential to all outcomes is the future success of the business. It doesn't benefit anyone - trustee, members or any other stakeholder - to wind up the scheme," a company spokesperson added.
Earlier this year, the company and the trustees of its pension scheme agreed a plan, which they described as "innovative", to remove the deficit.
To help the company survive, both parties agreed that in fact the firm would not pay any contributions until 2013.
From then on it would pay £10m a year, or 33% of its earnings (before interest tax, depreciation and amortisation) - whichever was the higher.
The company's directors warned that the recovery plan hinged not only on approval from the regulator, but also the continued support of the trustees.
If they believe the company has no prospect of making up the deficit, they have the power under the scheme's rules to wind it up.
This would trigger a demand for the immediate repayment by the company of £560m - the deficit as estimated at the end of 2009 - which would make it go bust.
"[This] in turn would lead to the winding-up of the company, the group no longer being a going concern and the dissolution of the group," Uniq had said in a statement in April.