Whitehall 'unlikely to meet' £35bn cuts target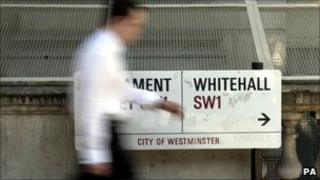 Targets to cut government department spending by £35bn by 2011 are "unlikely" to be met, the National Audit Office (NAO) has warned.
Labour announced the target to cut spending by £35bn by the end of the 2010-11 financial year in 2007.
But the NAO said the government was currently not on course to meet it.
It also questioned some of the £10.8bn in savings already reported by government departments, arguing that many of them were unsustainable.
The NAO said it had reviewed about £2.8bn of those claimed savings, and found that only 38% of them "fairly represented sustainable savings".
Amyas Morse, head of the NAO, said that the government departments did not appear to understand the cost saving programme well enough, and government would need to re-think its approach.
"Few of the savings... represent major departures from previous practice," Mr Morse said.
"The scale of savings needed in the current financial situation means that departments will have to think more radically about how to reduce costs and how to sustain them in the longer term."
Later this year, the Chancellor George Osborne is expected to set out plans that will see spending at most government departments cut by an average of 25%.
A Treasury spokesman welcomed the NAO's findings, but said the government would consider the report before responding.