Ryanair profits fall after ash cloud cancellations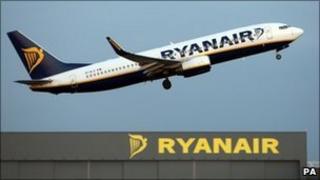 Ryanair's first-quarter net profits have fallen by 24% to 93.7m euros ($122m, £80m) because of the volcanic ash disruption earlier this year.
The airline said the Icelandic ash cloud had caused it to cancel almost 10,000 flights at a cost of 50m euros.
However, Ryanair said it was on course to meet profit forecasts for the year.
It expects to see profits rise by between 10-15% to more than 350m euros once the impact of the flight cancellations is stripped out.
Ash from an Icelandic volcano shut down much of Europe's airspace for 18 days in April and May.
Howard Miller, Ryanair's chief financial officer, told the BBC that the authorities had handled the event badly.
"In Ryanair we had one and a half million passengers who were disrupted because of non-existent volcanic ash clouds. It was a regulatory disaster, and both passengers and airlines suffered," he said.
The airline, which is Europe's biggest no-frills carrier, is still processing claims under what it calls the "unfair and disproportionate" EU regulations designed to compensate passengers for delays.
Initially, Ryanair said it would only pay expenses up to the value of the ticket passengers had bought, although it is now abiding by EU rules which guarantee wider compensation for disrupted air travellers.
Ryanair repeated its argument against the rules in its latest results statement, saying that airlines operated under a far more restrictive regime than rival modes of transport, such as ferries and buses.
The carrier says that these other forms of transport have their liability limited to the price of the ticket, and argues that the EU rules therefore discriminate against airlines.