World Cup boost at William Hill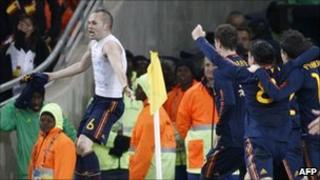 Bookmaker William Hill has said that strong betting on the recent World Cup tournament offset losses that it suffered at Royal Ascot.
It said the World Cup "proved to be one of the best for bookmakers in 40 years", although Royal Ascot meeting was its "worst ever".
William Hill said that it had seen strong growth in its online business and from gaming machines
It is predicting earnings of about £135m for the first half of 2010.
This is up marginally on last year's figure of £134.6m.
Bookies benefit
The World Cup proved profitable for bookmakers, as the Spanish football team's opening loss to Switzerland deterred some would-be backers.
That meant fewer punters backed the favourites, giving William Hill a good return.
Bookies also benefited through patriotic bets on a losing England team.
William Hill is now offering its longest odds to date on an England victory - 16/1 - for the next World Cup in Brazil following their dreadful showing in South Africa.
Spread betting
Meanwhile, IG Group, specialists in financial betting, had a good result from another global event - the sovereign debt crisis.
Britain's biggest spread betting firm reported a 25% rise in profits after volatile markets during the European sovereign debt crisis encouraged customers to place more bets.
IG reported annual pre-tax profit of £157.6m, up from £125.9m pounds the previous year.
IG takes spread bets on equity, commodity and foreign exchange markets, allowing customers to profit from falling as well as rising prices, and typically experiences a spike in betting volumes when markets fluctuate sharply.