UK public sector borrowing worse than expected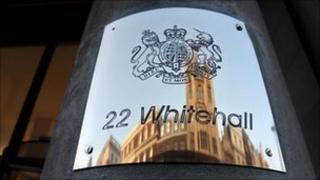 The level of new public sector borrowing in June was worse than expected, official figures have shown.
Net borrowing last month totalled £14.5bn, according to the Office for National Statistics (ONS).
While less than the £14.7bn seen in June 2009, that was well above the £13.1bn economists had forecast.
The ONS also said total government debt was now equivalent to 63.9% of the UK's annual economic output, the highest since that measure began in March 1993.
However, the pound brushed off the news, falling only 0.4% against the dollar to $1.522.
"The public finances numbers today remind us why we need to get on top of the budget deficit," said Chancellor George Osborne.
Breaking records
The deficit hit 11% of GDP last year. But the Conservative-Liberal Democrat coalition government has vowed to bring this down to 10.1% this year, and to eliminate the deficit altogether in five years.
The figures mean that net borrowing for the year to date still remains below the level reached at the same point in 2009, thanks in part to rising tax revenues.
The borrowing number is calculated using the government's preferred "accrual" basis, which smoothes out the impact of big lumpy payments over the course of the year.
Looked at on a "cash" basis - which only counts payments at the actual time they are made - the shortfall in June was £20.bn.
This was the highest monthly cash shortfall since records began in 1984, and well above analysts' expectations of only £15bn.
Revenue blip
The Institute for Fiscal Studies played down the importance of one month's data.
The think tank told the BBC that while government tax receipts were lower than expected in June, this followed two previous months in which revenues had been stronger than the government budget projected.
The June blip was partly due to a surprise 1.8% fall versus June 2009 in the combined cash revenues from income tax, capital gains tax and national insurance.
However, the IFS said it expects revenues to start rising in the latter half of the year, pushed up by a staged increase in fuel duties.
VAT revenues may also increase, as consumers bring forwards planned purchases of durable goods ahead of the planned rise in the VAT rate to 20% in January.