Honda sets 2012 electric car date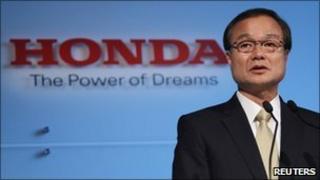 Honda is to start selling electric cars in the US and Japan in 2012.
It will also launch a plug-in hybrid in the same year as it joins the race to manufacture more environmentally-friendly cars.
Honda's president said the firm had "no future" without making vehicles that emitted less carbon dioxide.
It is the first time the firm, which already makes the Insight and CR-Z hybrids, has set a firm date for launching electric cars.
'True test'
Honda's Japanese rival Nissan is already taking orders for its Leaf electric car - due in Japan and the US later this year.
Meanwhile, Toyota is planning an electric vehicle model for 2012.
Honda Motor president Takanobu Ito said: "The next 10 years will be true test for Honda's survival.
"Honda has no future unless we achieve significant reduction in CO2 emissions."