Volcanic ash refund claims included lobster meals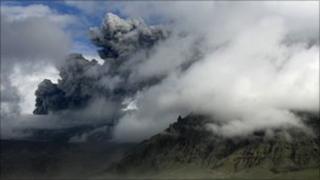 A week of lobster dinners and the hire of a private jet were among the claims made following disruption caused by the volcanic ash clouds.
Airlines have reported a handful of such extreme requests.
Meanwhile tens of thousands of more modest claims arising from the disruption are still awaiting settlement.
Passengers of some companies have fared better than others, research by the BBC has found.
It asked airlines and holiday firms how far they had got in processing claims resulting from the six-day closure of European airspace three months ago.
Research
A number declined to give detailed information including BA, KLM, Monarch and BMI.
Some airlines did however report a very small number of cases of eye-catching requests, for example one customer who ate lobster every night for a week and another who is requesting reimbursement for the hire of a private jet home.
Ryanair said that it had already paid out on more than a million ticket refunds costing it £42m. That was reflected in its profits announced on Tuesday which were down 24%. It still had up to 120,000 claims for food and accommodation to deal with, it said.
The law requires that European carriers, and those landing or taking off in the EU must reimburse travellers for the extra costs of hotels and food bills while they are stranded.
It is a rule hotly contested by Ryanair and much of the airline industry which consider it to be an unfair and costly burden in cases where events in the natural world have caused the disruption. However, all carriers are paying out while they ask EU politicians to reconsider the law.
Other airlines
Flybe still had most of its claims - more than a thousand - to be settled, it said. Virgin Atlantic told the BBC that it had received requests for 6,000 ticket refunds and a large number of hotel, meal and communications costs.
It has refunded 95% of the tickets so far but has only got through about half of the expense claims, and is aiming to have completed 70% by the end of July.
Easyjet said it had cleared its claims and only had those which have been recently made to deal with.
Travellers with holiday companies have by and large had their refunds dealt with quickly.
TUI, which includes First Choice and Thomson, said only 63 claims remained outstanding with the oldest of those made 18 days ago.
Thomas Cook said more than 2,500 claims had been paid out and most of those within seven days of receipt.
In some cases passengers report having problems where they made their own way home and claimed for the journey rather than waiting for transport to be laid on for them.
There is no deadline on submitting claims for expenses to the airlines but passengers will need to have receipts.