US home building sees sharp fall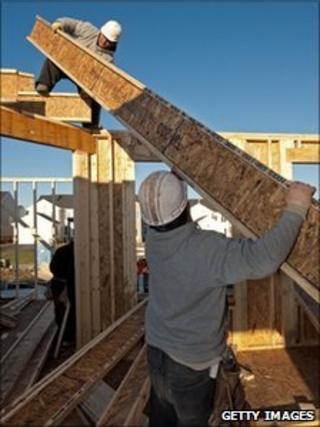 The number of homes being built in the US fell sharply last month to the lowest level since October 2009, Commerce Department figures show.
Construction of new homes and apartments dipped by 5% in June from a month earlier to a seasonally adjusted annual rate of 549,000.
A drop of more than 20% in demand for condominiums and apartments drove the fall, the data suggested.
Analysts said the data showed the weakness of US recovery.
'Risk'
US unemployment is hovering just below 10%.
And that slumping job market and competition from repossessed properties have forced builders to restrict construction.
The construction of single-family homes, dropped 0.7%.
But the report highlighted a 2.1% increase in applications for building permits - seen as a sign of future activity.
"Despite record low mortgage rates, housing is at risk of a double dip unless job growth strengthens soon," said Sal Guatieri, senior economist at BMO Capital Markets.