Ocado cuts price of share issue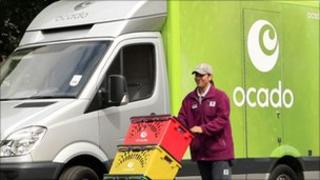 Ocado, the online service that delivers Waitrose goods, has cut the price of its stock market flotation.
In a statement, the company said it was setting a revised price range of between 180p to 200p a share for the flotation.
Ocado had originally planned to price its shares at between 200p and 275p, which would have valued the business at £800m-£1.1bn.
However, many commentators had argued that this price was too high.
The company said it would be publishing a supplementary prospectus in due course to reflect the new, lower price.
It added that full details of the effect of the revised price range on the offers would be set out in the new prospectus.
Ocado, which was set up in 2002 by three former Goldman Sachs bankers, has never made a profit.
And there was speculation that the firm's financial advisers were struggling to convince investors Ocado was worth the original price tag.
One retail analyst, Philip Dorgan, at Ambrian, said recently that a fair valuation would be less than £500m.
'Question mark'
Henk Potts, equity strategist at Barclays Wealth, told the BBC that the decision to cut the price "came as no surprise".
"There was a huge question mark over the valuation put on the company... they were asking investors to bet on whether they could deliver on their growth promises," he said.
Ocado was also dogged by reports that the take-up of shares by the firm's employees and customers was low.
Customers who had spent more than £300 with the company so far this year had been given until the end of Sunday to decide whether or not they wanted to buy shares.
The group is thought to have hoped it would raise up to £50m through its customers, but reports suggested the sum is likely to be only between £5m and £10m.