Big planemakers learn lessons from smaller rivals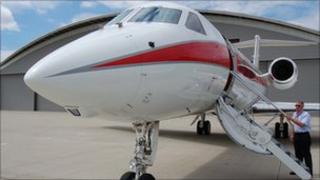 A sharp take-off from Farnborough airport in a nimble corporate jet is enough to take your breath away.
But not to worry, says Carl Esposito as he leans back in his large leather seat, inhaling deeply.
Mr Esposito works for Honeywell Aerospace, the company that has installed the Gulfstream aircraft's air conditioning.
"We kinda like fresh air," he grins, nodding towards the chrome air inlets above the plane's large windows.
Comfort is key for Gulfstream's wealthy customers, and good air quality is a crucial part of the equation.
When a plane flies at high altitudes, however, oxygen levels drop sharply outside.
Fortunately, air is naturally compressed in the jet engines and this can be pumped into the cabin. In other words, the engines can generate additional fresh air.
But this comes at a cost, explains Paolo Carmassi, president of Honeywell Aerospace in Europe, the Middle East and Africa.
To generate more air, you will need to burn more fuel, he explains.
"Air is a precious commodity up here," he says.
Trickle down
Executive jet customers tend to be happy to pay for more air.
Commercial airlines, which are carefully balancing costs against comfort levels, are generally more stingy.
That is not to say they have given up, however.
"The technology that's developed in this type of aircraft is often incorporated into commercial aircraft," explains Mr Esposito.
Back on the runway at Farnborough, Boeing's new 787, which landed here on Sunday, is a case in point.
Like the executive Gulfstream, the Dreamliner has large windows. The pressure inside the cabin is higher than in conventional commercial airliners. The humidity is greater.
No longer content with being mere "airframers", the manufacturers are increasingly getting involved in decisions about what is inside the planes.
Reducing costs
The aircraft manufacturers are increasingly taking an interest in the wellbeing of their customers' customers - the travelling public - though they do so for reasons of their own.
The comfort, safety and navigation gear that migrates from business jets to commercial jets offer the potential for additional revenue.
And by getting involved with the acquisitions of these gadgets, the manufacturers are able to get a share of these earnings.
Aircraft makers do this is by negotiating lower prices for everything from inflight entertainment systems to seats to galley equipment.
In some cases, the suppliers are told that either they are in or they are out.
The Dreamliner, for instance, has just one supplier for its hot water kettles, which means all the earnings from kettle sales end up with one company.
The benefits of this are obvious, so that company has agreed to offer kettles at half the price of what kettles normally cost, a Boeing official explained during a recent visit to Seattle.
Standard gear
Airbus operates similar systems, chief executive Tom Enders tells BBC News in an interview at the Farnborough air show.
"In general, we try to standardise the cabin outfitting," he says. "This drives down cost, reduces the fitting time and the lead time, so hopefully we can deliver the aircraft quicker to our customer."
Embraer is also working closely with suppliers.
"We have developed risk-sharing partnerships with suppliers of avionics or the interior," says Mauro Kern, executive vice president of future programmes at the Brazilian plane maker.
So the aircraft manufacturers squeeze prices, the airlines pay less and the chosen suppliers get access to markets that would otherwise be closed for them.
So it seems everybody gains, except suppliers that are left out of the circle.
But it is not that simple. The dealmaking is tough and many suppliers go to great lengths to be chosen as partners with the much larger plane makers.
This is particularly so for suppliers of parts that require long-term maintenance, sometimes lasting several decades.
In such cases, the business plan is based on the price the manufacturer pays for the original component, for instance a main engine fuel pump.
The ongoing servicing fees expected from the airline over the next several decades while the plane is in service are also included, explains Brad Morton, president of the Eaton Corporation's aerospace business.
In some cases, the suppliers are so eager to get their hardware into a plane, they will give it away for free, in a manner similar to the way mobile phones are given away to customers who pay monthly for their calls, according to two aerospace company presidents who asked not to be named.
Fine line
The effect of such downward pressure on costs is that aircraft prices are pushed lower.
So rather than pay everything up front, the airlines keep on paying throughout the life of the aircraft.
"The airlines can now go out and buy a relatively inexpensive aircraft and they can match revenue against cost," observes Mr Morton.
This has long been the case with engine manufacturers, such as Rolls-Royce or General Electrics, which tend to make more money from servicing the engines than from initial sales.
But it may not work as well for all suppliers, and certainly not if manufacturers use the model to push costs too low, warns Mr Carmassi.
"It is a fine line to tread," he says.
"A sustainable industry is dependent on profitable airlines, profitable manufacturers and profitable suppliers."