Yahoo shares fall on disappointing profit figures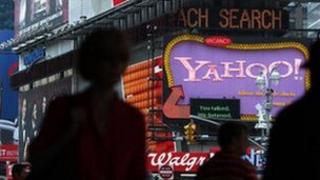 Yahoo's profits rose by more than 50% in the second quarter, but net revenues fell short of analysts' estimates and its share price fell by more than 4%.
Yahoo said its revenue in the three months ending 30 June was $1.6bn (£1.05bn), compared with $1.57bn in the same quarter last year.
But Yahoo's net revenue, which excludes the revenue it shares with website partners, was $1.13bn.
This was below the average analysts' expectations of about $1.16bn.
Yahoo said net income in the second quarter was $213.3m, or 15 cents a share, up from $141.4m in the same period last year.
The company's shares were down 4.2% to $14.56 in after-hours trading on Nasdaq on Tuesday, after closing at $15.20.
"We still have plenty of work to do," said Tim Morse, Yahoo's chief financial officer. He said the quarter had looked fairly strong until June when several large advertisers suddenly reduced their spending.
"That has made us incrementally more cautious," Mr Morse said.
Bartz's strategy
Despite the modest growth, the results still marked Yahoo's best performance since hiring Carol Bartz as chief executive to revive the company's fortunes 18 months ago.
Although she has been able to boost Yahoo's earnings by cutting costs, the failure to produce big revenue gains will worry investors.
Yahoo's second-quarter revenue growth of 2% was particularly disappointing because Google last week unveiled revenue up 24% in the same period.
Both companies make almost all of their money from online advertising, a sector that has been recovering from recession more rapidly than other forms of marketing.