Fiat returns to profit ahead of demerger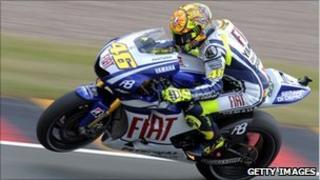 Italian carmaker Fiat has returned to profit for the first time since 2008, as it prepares to spin off its non-car assets next year.
The group recorded a 113m euros ($145m; £95m) profit for the second quarter, against a 179m euros loss a year ago.
The encouraging result was driven by a turnaround at its car components division, which saw revenues jump 35%.
Fiat, which also produces tractors and trucks, plans to split into separate car and non-car businesses in January.
The results were well ahead of market expectations, and Fiat's share price jumped 6.5% when the Milan stock exchange opened on Wednesday.
The company also said it had raised its target for full-year profits.
Car sales
Net revenues for the quarter rose 12.5% on a year earlier, to 14.8bn euros.
However, this still remains well below pre-recession levels. Two years ago, revenues were 17bn euros.
The bulk of the Fiat Group's business is done by its carmaking division, which saw net revenues rise 7% to 7.9bn euros.
That included a big jump at Maserati - one of its two luxury car lines along with Ferrari - where net revenues were up 57% to 174m euros.
However, despite the increased business, the carmaker still suffered from falling market share, down to 7.5% from 9% in Europe, and down to 30.3% from 34.4% in its home market Italy.
Powertrains
The biggest impact on Fiat's profits came from the group's components division, which will be included in the businesses to be spun off from the carmaking division.
Most impressive was its powertrains unit, which saw a 48% increase in net revenues, to 1.9bn euros.
The demerger is expected to take place on 1 January 2011, and the company is expected to seek shareholder consent for the move on 16 September.
Existing shareholders will receive proportionate ownership of the two new companies.
The non-car company, to be named "Fiat Industrial", will take over the group's assets in the truck, industrial and marine powertrain, and agricultural and construction equipment businesses.