Bank of England member votes again for bank rate rise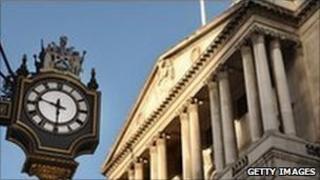 A member of the Bank of England's Monetary Policy Committee (MPC) has called again for a rise in interest rates.
Minutes from the MPC's July meeting show Andrew Sentance voted to lift the Bank rate to 0.75% from the record low of 0.5%, citing stubborn inflation.
It is the second month in a row that Mr Sentance has called for a rate rise.
The other MPC members at the meeting all voted for rates to be held at 0.5% for the 16th month in a row.
Although the most recent consumer price inflation figure for June - at 3.2% - remains above the Bank's target rate of 2%, the majority of committee members thought that the slow pace of economic growth would hold back prices.
The minutes from the meeting noted that uncertainty over tax and spending plans in the run-up to the coalition government's emergency Budget, which was produced in late June, may have had an impact on business confidence and made the economic situation temporarily more difficult to read.
David Kern, the chief economist at business lobby group the British Chambers of Commerce, said the committee's job was particularly tricky given the current economic backdrop.
He said: "The minutes state that short-term growth prospects for the economy have weakened, while short-term inflationary risks are greater than previously indicated.
"This is an unfortunate combination of circumstances that makes the choices facing the MPC more difficult."
Most analysts polled by the Reuters news agency thought that the minutes suggested there would be no rise in interest rates until some time in 2011.