BHP Billiton sees output rise, but fears China slowdown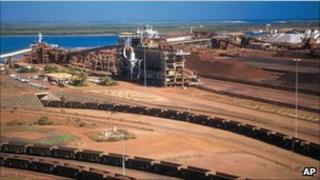 Mining giant BHP Billiton saw output continue to rise in the three months to June, but fears a slowdown in China.
Iron ore production jumped 16% from the same period last year, bringing total output for the last 12 months to a record 125m tons.
Metallurgical coal - used in steel making - was also up 16%.
But the company signalled concern over action by the Chinese government to slow its economy, as well as slower growth in Europe and the US.
China is the company's biggest customer, consuming an estimated quarter of the combined output from BHP and its rival Rio Tinto.