Morgan Stanley sees profit surge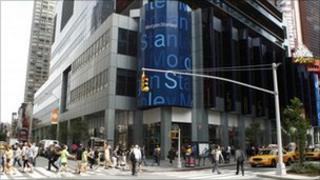 US bank Morgan Stanley saw a stronger than expected profit in the three months to the end of June, despite weakness elsewhere in the sector.
The Wall Street giant made a net profit of $1.4bn (£917m) compared with a loss of $138m in the same period last year.
Its shares ended the day up 6.3% on Wall Street.
On Tuesday, Goldman Sachs disappointed investors after reporting a sharp fall in profits after being hit by the UK's bonus tax, a US fine and poor trading.
Morgan Stanley said employee compensation for the quarter - which included the bonus pool - was $3.9bn.
But it said it had set aside $361m to cover the cost of a one-off tax on bonuses paid to UK employees.
Meanwhile, another Wall Street stalwart, Wells Fargo, reported its quarterly net profit fell slightly to $3.1bn from $3.2bn a year earlier.