GlaxoSmithKline results hit by legal charges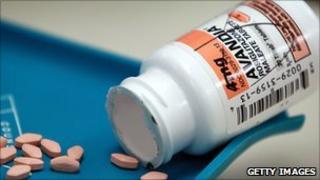 GlaxoSmithKline has reported a loss for the second quarter of the year following one-off charges for legal and restructuring costs.
The the world's second-biggest drugs company reported a pre-tax loss of £97m, compared with a profit of £2bn in the same period last year.
Glaxo had announced last week that the costs of various legal settlements would £1.57bn ($2.4bn).
And it was also hit by a £591m charge for restructuring its US business.
Strategy
The legal costs cover a range of cases, including claims over its diabetes treatment Avandia, antidepressant Paxil and an investigation into standards at a Puerto Rico factory.
Glaxo's turnover rose by 4% to £7bn after a 13% fall in US sales was offset by growth in emerging markets and Japan. It was also helped by £275m in sales of the H1N1 avian flu vaccine.
The group is attempting to make itself more competitive in the US, but also reduce its reliance on developed markets.
Glaxo's aim is to reduce reliance on "white pills in Western markets", the part of the business most vulnerable to generic competition and pricing pressure.