Pratt & Whitney eyes global plane engine deals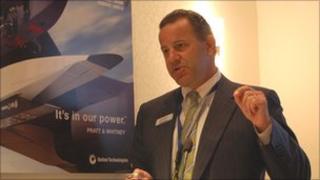 As the aerial displays get under way at Farnborough, they are more audible than visible.
Aircraft engines are also lucrative, at least for the industry's two leading players, Rolls-Royce and General Electric, which dominate the top-end of the market.
But their lofty positions are now coming under attack as the world's third-largest aircraft engine maker, Pratt & Whitney, gears up its assault on the top players.
Ahead of anticipated decisions later this year by both Airbus and Boeing to re-engine their best-selling planes, Pratt & Whitney insists it has come up with a solution that will put its rivals in the shade.
Big savings
Pratt has developed a family of engines that use a gear system which allows the fan of the engine to move slowly without affecting the speed of a low-pressure compressor and turbine.
Current engines in the PurePower family can deliver a 16% reduction in fuel burn, reduce noise and halve emissions in accordance with the Committee on Aviation Environmental Protection's CAEP/6 guidelines, according to David Hess, president of Pratt & Whitney.
Engine maintenance costs are also reduced by 20%, so all-in the airlines can save $1.5m per aircraft per year, and by 2025 the fuel burn will have been reduced even further to 25% below current levels, Mr Hess claims.
'Maintenance free'
Such bold statements have caused a stirr in the aerospace industry, though not everyone is convinced, Mr Hess acknowledges.
"There is scepticism, because it's a big number" he says.
"But the numbers are real.
"The gear system, which we've tortured in our lab now for the equivalent of 20 years in service, is basically maintenance free."
Bouncing back
Pratt & Whitney hopes its new technology will help it regain a lead in the aircraft engine sector, long lost to Rolls-Royce, which currently commands about half the new orders in the most lucrative wide-bodied aircraft market, and GE, which currently takes about 40% of the new orders in this segment.
Pratt & Whitney secures only about a tenth of the new orders for engines in wide-bodies, so Mr Hess has great ambitions to get back on the pitch.
"We're not happy with our market share," he says.
"We're determined to grow our large commercial engine business again."
'Serious discussions'
The first major opportunity for Pratt & Whitney to do major deals could come later this year when Airbus and Boeing will decide whether they will re-engine their A320 and 737 aircraft to make them more efficient and thus better able to square up to emerging rivals.
"Hopefully there'll be a re-engining decision," Mr Hess says.
"We're in serious discussions with Airbus and Boeing, as well as with Emirates, about applying the PurePower family of engines to their airplanes.
"I think they're excited about the performance improvements they can get out of a turbofan engine."
But Pratt & Whitney is not pinning all its hopes to developments taking place this year.
"What's exciting are the opportunities that lie ahead," says Mr Hess.
The next two decades should see some 30,000 large commercial jet deliveries to airlines across the world, Pratt & Whitney predicts.
"And we have a family of engines in development that gives us access to that market," Mr Hess says.
Not convinced
So whilst the jets buzz noisily overhead at the air show, burning fuel as if there was no tomorrow, the executives on the ground are engaged in a frantic search for the direct opposite.
Reduced noise, fuel burn and emissions are essential to ensure any aircraft maker remains attractive to airlines, observes Mauro Kern, executive vice president in charge of future programmes at the Brazilian plane maker Embraer.
"We want to keep our competitive edge," he says, "so we're actively talking with the engine makers."
However, Pratt & Whitney's rivals are not standing still, so Mr Kern is not convinced that it will win the race.
"All the engine manufacturers can come up with significant fuel burn advantages over current models," he says, predicting further advances by the middle of this decade.
"Pratt has come up with the gear fan, the other two bring conventional technology with great improvements. I think significant results can be achieved with either."
Here today
But there is a fundamental difference, Mr Hess insists. Whereas the biggest players are developing technology, Pratt & Whitney's engines are here already.
"Ours is not a paper engine," he says. "These are real engines that are in production today."
That may not be enough to convince Pratt & Whitney's customers. Many will no doubt wait to see what the industry's two majors can do.
But Pratt & Whitney has nevertheless earned itself a place in the sun at a time when its chief rivals seem slightly blinded by it.