IMF cancels Haiti's $268m debts and agrees $60m loan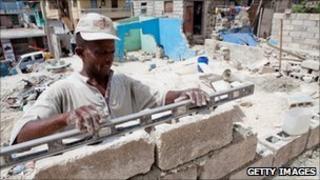 The International Monetary Fund (IMF) has agreed to cancel Haiti's $268m (£176m) debt and lend the impoverished Caribbean nation a further $60m.
The IMF said both decisions formed part of a strategy to support Haiti's reconstruction plans in the wake of the devastating earthquake six months ago.
The disaster left some 230,000 people dead and more than a million homeless.
The international community pledged $9.9bn (£6.5bn) for the reconstruction effort at a conference in March.
"Donors must start delivering on their promises to Haiti quickly so reconstruction can be accelerated, living standards quickly improved, and social tensions soothed," IMF Managing Director Dominique Strauss-Kahn said on Wednesday.
The new three-year loan from the IMF is intended to boost Haiti's international reserves and help the central bank manage potential swings in the value of the local currency that could arise from large aid flows going into the country.
It will be interest-free until the end of 2011. After that rates will remain low.
The debt relief will be financed by the IMF's Post-Catastrophe Debt Relief Trust Fund, set up to help poor countries hit by natural disasters.
The IMF said Haiti's recovery was still fragile and that the biggest contributor to economic growth would come from reconstruction work.
The organisation said the Haitian economy would grow by about 9% in the next financial year, slowing to 6% by 2015.