Credit Suisse profits up despite revenue hit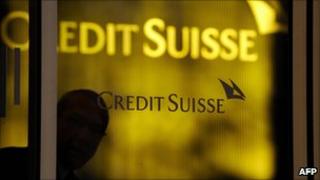 Swiss bank Credit Suisse has reported higher-than-expected profits of 1.6 billion Swiss francs ($1.5bn; £1bn) for the three months to the end of June.
The net profit figure was slightly higher than a year earlier.
The profit was achieved despite a fall in revenue from investment banking of almost a third, to 4.1bn francs.
Chief executive Brady Dougan said the results represented "a resilient performance during a difficult second quarter for the banking sector".
"We remain confident that our strategy is appropriate and resilient in the face of an uncertain and challenging economic and market environment."
The bank said revenue had been hit by "volatile market conditions" and lower bond sales.
Analysts said the European debt crisis in particular had knocked the bank's earnings.
"Revenue generation has suffered from the market dislocations around the sovereign debt crisis in April and May," said Dirk Becker at Kepler Capital Markets.