Mitchells & Butlers food sales knocked by World Cup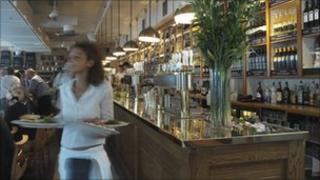 Pubs and restaurants group Mitchells & Butlers (M&B) has said its rate of sales growth slowed in June and July as food sales fell during the World Cup.
M&B, which owns Harvester and All Bar One, said like-for-like sales were up 1.2% in the nine weeks to 17 July, compared with a 1.8% rise in the preceding 33 weeks.
For the year to date, sales rose 1.6%.
M&B said the month of the World Cup had a "negative impact" on food sales, reducing overall sales by about 2%.
Looking ahead, the company said there there continued to be "uncertainty in the outlook for discretionary expenditure and associated pressure on the UK's eating and drinking out market".
But it added that it was making good progress towards achieving its objectives for the year.