UK car production up sharply in June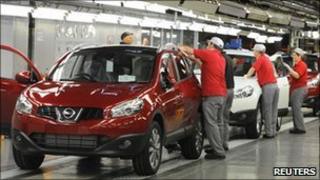 UK car production increased sharply in June, figures have shown, rising 28.6% on the same month last year.
Almost 118,000 cars were produced in the month, according to the Society of Motor Manufacturers and Traders (SMMT).
This was the eighth month in a row that production increased, but a slower rate than the 54% rise seen in May.
"Continued investment in new products and technology is helping to sustain growth for the sector," said Paul Everitt, the SMMT's chief executive.
Figures released earlier this month showed that UK new car sales rose 10.8% in June compared with a year earlier.
'Minor drop'
The SMMT said the rise in car production was mirrored across both commercial vehicle and engine production.
However, it did warn that the "coming months remain uncertain and sustaining economic recovery in major markets around the world remains the industry's top priority".
Production could in fact fall in the short term due to the government's austerity measures being introduced to cut the budget deficit, the body said.
"We expect to see the rate of growth slow down and even see minor drops in the next couple of months," the SMMT's Nikki Rooke told the BBC.
Car sales, however, were likely to increase later in the year, as people look to buy new cars ahead of the VAT increase in January, she added.
"We do expect to see slightly higher volumes in October, November and December, but these are unlikely to be significant," she said.
Post-scrappage
Carmakers were hit hard during the global downturn, with production levels falling to 25-year lows in 2009.
The government scrappage scheme introduced last year, which offered new buyers a £2,000 discount if they scrapped a car that was more than 10 years old, helped to boost demand.
The scheme ended in March this year, and the fact that sales and production have continued to rise is seen as encouraging by motor industry analysts.