UK retail sales rise 0.7% in June beating expectations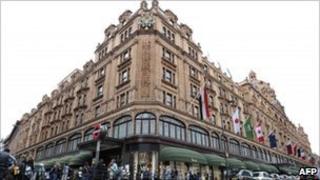 The value of UK retail sales rose 0.7% in June compared with a month earlier, beating market expectations.
Excluding petrol sales, which can be volatile, sales were up 1% on the month and 3.1% on the year, the Office for National Statistics (ONS) said.
The rise was driven by household goods and general stores, which saw sales volumes rise a seasonally adjusted 1.6% and 1.5% respectively.
The monthly growth in retail sales for May was also revised up, to 0.8%.
The June data, which was released by the ONS at the same time as strong UK car production figures, were greeted by a 0.5% jump in sterling and a 0.8% rise in the FTSE 100 index.
However, some analysts say that while the June figures are encouraging, the outlook for consumer spending during the rest of the year remains highly uncertain, as households struggle with high unemployment and high levels of indebtedness.
Sales volumes at petrol stations dropped 2.2% versus May, bringing the total fall since June last year to 15.9%.
This means the total value of sales has fallen 3.6% since June 2009, despite rising pump prices.