Oil firms to fund $1bn deepsea spill response unit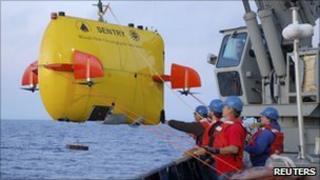 Exxon Mobil and three other oil firms have agreed to pool $1bn (£650m) to fund a new deepsea response unit in the wake of BP's Gulf of Mexico oil spill.
The new Marine Well Containment Company will invest in robots, capture vessels and other marine equipment that can be mobilised within 24 hours.
The consortium, which includes Shell, ConocoPhillips and Chevron, but not BP, wants to be able to deal with spills in depths of up to 10,000ft (3km).
BP said it may join at a later date.
"We expect to be part of the overall effort moving forwards," said Scott Dean, a spokesman for BP.
"Once we get this [oil well] leak capped, we would fully expect to share those learnings, which is key to what this group is doing."
Greater depth
The announcement echoes a similar move after the 1989 Exxon Valdez oil spill in Alaska, when the US oil industry clubbed together to create a similar company, the Marine Spill Response Corp.
However, the spill at BP's Macondo oil well has highlighted the need for a new company that can operate at much greater depths beneath the ocean.
Thanks to the exhaustion of existing oil wells, rising oil prices and improving technology, deepsea drilling has become increasingly profitable and is a major growth area in oil production.
Exxon, whose name is inextricably linked with the Valdez disaster, has taken the lead in the initiative.
The new consortium hopes that the new company will be able to operate at a depth more than twice that of the Macondo well.
It should be able to contain a spill of up to 100,000 barrels per day, compared with the estimated 60,000 barrels per day leaking from Macondo before it was contained.
Not enough
However, US politicians also want oil firms to focus on preventing spills, not just better containment.
"The oil companies must also invest more in technologies that will prevent fatal blowouts in the first place," said Edward Markey of the House of Representatives' energy and commerce committee.
Of key concern is the failure of the blowout preventer at the Macondo well, which was supposed to automatically shut the well down in the case of an accident.