US companies report surprisingly strong profits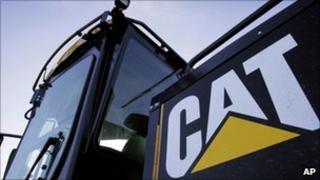 A string of US companies have announced surprisingly strong second quarter profits, belying fears of a slowdown.
The strong results came from companies across all sectors of the economy, including machinery maker Caterpillar, delivery firm UPS and telecom AT&T.
US stocks rose over 1% at the New York open, recouping Wednesday's losses.
Markets had fallen the previous day after US Federal Reserve chairman Ben Bernanke said the US economic outlook was "unusually uncertain".
Mr Bernanke was giving one of his regular addresses to the Senate banking committee and his statement caused a sharp sell-off in Wall Street.
Tracking higher
Caterpillar saw the biggest jump in profits, up 91% from a year ago to $707m (£463m), helped by rising sales of industrial machinery for the mining, infrastructure and energy sectors.
The company is seen as a good leading indicator of growth, as its products play an important role in the investment decisions of natural resource and heavy industry companies.
Sales at Caterpillar also beat expectations, up 31%.
Profit margins
Xerox saw net income leap 62% to $227m, thanks to its recent purchase of outsourcing company Affiliated Comuter Services, which expanded the company's revenues by 48%.
Profits at telecoms company AT&T were up 26%, helped by a one-off stock sale.
Interestingly, both AT&T and Xerox reported slightly slower revenue growth than expected, meaning that their strong bottom lines were due to unexpectedly wide profit margins.
Technology company 3m reported a 43% jump in earnings and revised up its full year forecast, saying it was more bullish about the outlook for the global economy.
UPS, the biggest international deliveries company in the world, also raised its profits forecast after reporting net income that was 9% above market expectations.
Other companies in the transport sector to report stronger-than-expected earnings growth included railway company Union Pacific and airline Continental.
Consumer goods
Among consumer goods companies, confectioner Hersheys saw a 5% rise in sales push net profits above expectations, although one-time restructuring costs and write-offs in India meant its actual profit line fell 35%.
Earnings at cigarette giant Philip Morris rose 28%, beating analysts' expectations by about 10%.
Meanwhile, those at rival Reynolds American - the second-biggest US cigarette company, with brands such as Camel and Pall Mall cigarettes - were slightly above expectations.
Even the loss-making New York Times announced that advertising revenues had finally grown for the first quarter since 2007.
Links for all of the companies' results are listed below.