Train franchises to double under government proposals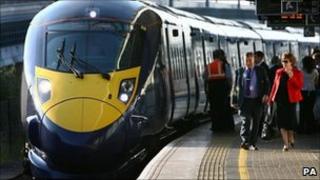 Train companies could be given standard franchises of 15 years, almost double the current length, the government has proposed.
The new arrangements are aimed at giving companies more incentive to invest as well as more flexibility.
Train firms have long complained that they are "micro-managed" by government and broadly welcomed the proposals.
But the government said under-performing companies could still be stripped of their franchises.
Currently, the average train franchise is for about eight years.
'Tough requirements'
The government and the train companies are in agreement that this is too short - arguing it doesn't encourage companies to invest and plan for the long term.
The government does accept that putting franchises out to tender frequently - as happens at the moment - results in increased competition.
But it also argues that repeated tendering processes put substantial administrative costs on both government and companies.
"The existing franchise system is too complicated, with too much micro-management from Whitehall," said Rail Minister Theresa Villiers.
"This is not the best way to deliver value for money or protect passengers.
"We need a system that sets the private sector operators tough requirements on passenger outcomes and satisfaction, but gives them more scope for enterprise and innovation in working out the best way to deliver them."
The industry also points out that those train companies with the longest franchises also have the highest customer satisfaction.
The previous government had proposed similar changes, but more limited in scope.
'Too prescriptive'
As well as longer franchises, the proposals would also give train operators substantial freedom.
The idea is for government to specify a minimum level of operation - for example the frequency of trains and the stations they call at - and then the company can add extra services if it wants to.
"The government is absolutely right to point out that franchising has become too prescriptive and limits operational flexibility at the expense of passengers and taxpayers," said Michael Roberts, chief executive of the Association of Train Operating Companies.
"On the right terms, longer and more flexible franchises, with clear commitments on service quality, would allow train operators to deliver improvements more quickly, help drive down costs and open the door to more private sector investment."
Crucially, though, the document also offers the potential for companies to reduce services if the demand is not there.
Many off-peak services run with few people on board, so these might be particularly vulnerable.
Anthony Smith of Passenger Focus said: "We don't want to see long franchises where the passenger is saddled with a poorly performing train company, so we need an effective measure of passenger opinion.
"Passengers are in the driving seat as to whether the train companies are performing and if they're no good, [there should be] measures so they can be kicked out."
The government has stressed that even if these proposals go ahead, train companies can still be stripped of their franchises if service levels fall.
It is proposing a series of "output" tests that franchises must satisfy. These could be maximum acceptable levels of overcrowding, or a maximum number of minutes that trains can be delayed by.
The consultation is open until 18 October, with passengers and members of the public able to give their views.