US existing home sales decline a further 5% in June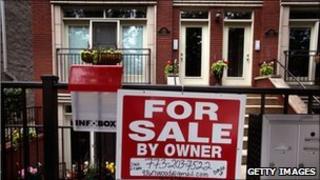 Sales of existing homes in the US fell in June for the second month running, down 5% compared with May.
Home sales closed in the month at an annual equivalent rate of 5.37 million, according to the National Association of Realtors (NAR).
This was still 9.8% higher than the recession lows of a year ago, but well below the seven million or more at the height of the boom.
Meanwhile, the stock of unsold homes rose to 2.5% to nearly four million.
The inventory of unsold homes - which is not seasonally adjusted - typically numbered about two million to 2.5 million before the recession.
It then peaked at 4.6 million at the height of the financial crisis in 2008.
The continued elevated level of unsold homes is likely to put further downward pressure on housing prices.
Tax credit
A fall in home sales was widely expected, thanks to the expiry in April of a temporary tax credit of up to $8,000 (£5,250) for home purchases.
Many transactions are thought to have been sped up to beat the deadline, meaning fewer buyers are left on the market now.
"Broadly speaking, sales closed after the home buyer tax credit will be significantly lower compared to the credit-induced spring surge," said Lawrence Yun, chief economist at the NAR.
"Only when jobs are created at a sufficient pace will home sales return to sustainable healthy levels."
Further falls
However, home buyers who managed to beat the deadline still have until September to complete the necessary paperwork.
This means that their purchases will continue to flatter the sales data over the summer.
By implication, as the effect of the tax credit continues to fade over the next two months, sales are expected to fall further.