Strike ballot of UK airport workers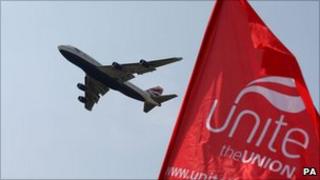 Airport workers are to be balloted in a dispute which could seriously disrupt travel over the busy August period.
Some 6,000 BAA staff at six airports are being asked to vote for strike action by the Unite union in a pay row.
The airport operator says its offer is reasonable at a time when the industry is recovering from the recession and the volcanic ash cloud disruption.
The airports involved are Heathrow, Stansted, Glasgow, Edinburgh, Aberdeen and Southampton.
Key workers
BBC employment correspondent Martin Shankleman says that air travellers already threatened with further strikes by British Airways cabin crew could soon face disruption from another group of workers.
Firefighters, security guards and engineers working for BAA will start voting on what the union has called a "paltry" pay offer of 1%, following a pay freeze last year.
A vote in favour of industrial action could mean a strike of these key workers in late August.
BAA said the strike threat would cause concern to millions of passengers and damage the reputation of the UK abroad.
It pointed out it had also offered extra money for changes in working conditions.
The strike ballot among Unite's 6,185 BAA members runs from Friday until 12 August.
BAA operates Heathrow and Stansted in the London area, as well as Glasgow, Aberdeen, Edinburgh and Southampton airports.