Dell computers pays $100m to settle SEC fraud charge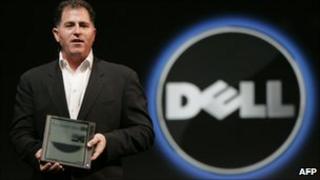 Dell has agreed to pay $100m to settle charges that the computer maker used accounting fraud to make it appear it was meeting analysts' profit forecasts.
Under the settlement with the Securities and Exchange Commission (SEC), Dell's chairman Michael Dell will pay a separate $4m civil penalty.
The SEC alleged that Dell did not disclose large payments received from Intel to not use chips made by a rival.
Dell and its executives have not admitted or denied the charges.
Mr Dell said in a statement: "We are pleased to have resolved this matter."
Under the settlement, former Dell chief executive Kevin Rollins will pay $4m, and former chief financial officer James Schneider $3m.
According to the SEC, Intel's exclusivity payments to Dell grew considerably over the years, peaking at 76% of Dell's operating income in the first quarter of fiscal 2007.
Without the Intel payments, Dell would have missed analysts' earnings-per-share estimate in every quarter from 2002 to the end of 2006.
Instead of disclosing the Intel payments as the reason for its improving profit margins, Dell cited cost cutting and "declining component costs".
The SEC said: "Dell manipulated its accounting over an extended period to project financial results that the company wished it had achieved, but could not.
"Dell was only able to meet Wall Street targets consistently during this period by breaking the rules," the SEC said.
Intel cut its payments after Dell started using chips from rival AMD. This led to a sharp drop Dell's operating results.
'Integrity'
Mr Dell, one of the industry's highest profile figures, said: "We are committed to maintaining clear and accurate reporting of our periodic results, supporting our customers, and executing our growth strategy."
In a statement from Dell, director Sam Nunn said: "The board believes that this settlement is in the best interest of the company, its customers and its shareholders, as it brings a five-year SEC investigation to closure.
"Dell's board reaffirms its unanimous support for Michael Dell's continued leadership, and the management team in its ongoing commitment to transparent accounting, integrity in financial reporting and strong corporate governance."