BT blocked from raising charges to fund pension deficit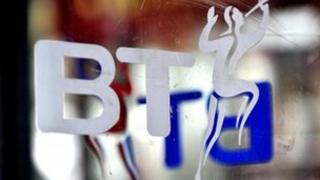 The telecoms watchdog, Ofcom, has told BT it cannot ask wholesale customers to pay more to fund its pension deficit.
BT had asked Ofcom to reconsider the prices it allows the company to charge other communications providers to deliver services to consumers.
Ofcom already takes into account the cost of running the pension scheme when it decides the amount BT can charge.
But BT wanted that to be extended to take into account the extra costs of topping up its pension scheme deficit.
That is understood to be currently around £7.5bn ($11.6bn).
Ofcom asked those affected whether there were good reasons to change the way pension costs were currently accounted for when setting regulated charges.
After taking these views into account, the regulator said it had not seen any compelling evidence that would justify changes to prices set for BT's wholesale Openreach service - which leases dedicated lines to companies - to take account of reducing the pensions deficit.
BT said other companies had been allowed to rebuild their pension schemes by increasing regulated charges.
Detailed review
A statement from the company said: "It is right that Ofcom has considered this matter, as there is regulatory precedent from other industries for BT to be able to recover some proportion of its total pension costs through regulated charges. "
The company added it would be reviewing Ofcom's proposals in detail.
It is understood the company was expecting any change in its favour to result in tens of millions of pounds in revenue.
The regulator revealed last December it was looking at an option to make firms such as TalkTalk and BSkyB pay up to 4% extra for using wholesale telephony from BT to help cover pension deficit payments.
The inquiry was launched last year after BT's deficit soared and the regulator became concerned the scale of its pension payments could affect its costs.