German business confidence in biggest jump for 20 years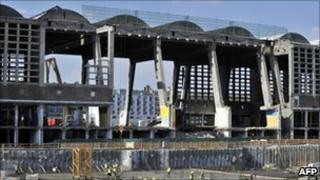 German business confidence jumped in July by the largest amount for 20 years, a survey has indicated.
The Ifo Business Climate Index climbed to 106.2 in July, up from 101.8 in June, a much bigger rise than analysts had expected.
The survey also showed improved expectations for the coming six months.
"This increase is the largest since German reunification. The German economy is in a party mood," said Hans-Werner Sinn, the Ifo's president.
The institute said the business climate in the manufacturing sector had "brightened strongly".
It also picked out the wholesaling, retail and construction sectors where the climate had improved.
Promising signs
Analysts were surprised at the size of the jump in confidence.
"These are fantastic numbers. It's incredible what's going on," said Andreas Scheuerle at Deka Bank.
"These great numbers underscore the fact that the German economy is really running strong, especially compared to the rest of Europe."
Ralph Solvern at Commerzbank said: "These numbers are just insane. The economy is really growing strongly. We'll see a strong growth rate in the third quarter as well - the Ifo Business Climate Index is often spot on."
The survey was the third set of encouraging economic data in Europe in the past two days.
Also on Friday, official figures showed the UK economy grew by 1.1% between April and June, almost double the 0.6% rate that many economists had forecast.
On Thursday, another closely-watched survey - the European purchasing managers index - also rose by more than expected, boosting confidence in the economic recovery.
Investors are now awaiting the results of the European bank stress tests published later, designed to assess how well banks are positioned to cope with future financial crises.