Revenue extracts £9m tax from dentists and doctors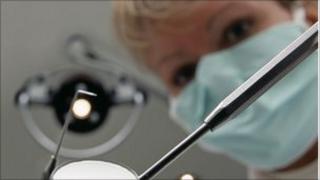 Tax officials have harvested £9m in unpaid tax from 1,500 medical professionals, although 30,000 were approached in a disclosure campaign.
Letters were sent to doctors and dentists asking them to come forward with any admissions of unpaid tax from previous earnings.
A deadline was set for the end of June before HM Revenue and Customs (HMRC) started targeted prosecutions.
HMRC said it was happy with the results and urged others to come clean.
"We did not have a target in mind, but nonetheless, the campaign has resulted in millions of pounds of tax that might otherwise have been lost being paid to HMRC as required by law," a spokeswoman said.
"Anyone who has been evading tax should talk to us as a matter of urgency, as voluntary disclosure always makes financial sense."
Deadline
Medical professionals who admitted unpaid tax before 30 June could pay past tax, plus interest, and a penalty of 10% of the unpaid tax.
For those found out after the deadline, the fine would increase to between 20% and 100% of the unpaid tax.
However, accountants have said they considered the response to be muted, with many medical professionals now facing investigation and, in the most serious cases, prosecution.
"HMRC is making it clear that it holds information, particularly in relation to doctors and dentists, that still has not been disclosed," said Stephen Camm, tax partner at PricewaterhouseCoopers.
"From the disclosures that have been made, HMRC have uncovered individuals who should have come forward but who have failed to do so.
"Investigations will start in the autumn in earnest. HMRC is already working on cases for prosecution and expect numbers to rise. There is no doubt that any medical practitioner that has something to disclose to HMRC must deal with this issue now."
The medical professionals are the latest group to be targeted by the Revenue.
Chas Roy-Chowdhury, head of taxation at the Association of Chartered Certified Accountants, said: "This whole process is very much about HMRC focusing on collecting taxes, from plumbers to gas fitters to doctors.
"The message is that the tax authority has become more authoritative and will continue to be so."