Japanese exports rise at slower pace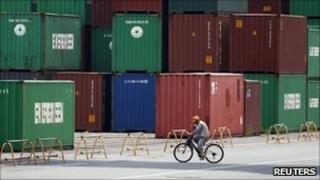 Japanese exports rose in June but at a slower pace than in recent months, raising questions about the strength of Japan's economic recovery.
Exports climbed 27.7% to 5.87 trillion yen ($67bn; £43.4bn), the Finance Ministry said.
However, analysts warned that exports would slow in the coming months as rises in the yen started to bite.
Separately, figures showed that economic growth in South Korea slowed in the second quarter.
GDP grew by 1.5% in the three months to the end of June, compared with 2.1% in the first three months of the year.
Despite the slowdown, the GDP figure was higher than analysts had expected.
Slowing recovery
Japan's exports to Asia rose by 31.7%, while those to the US rose by 21.1%.
Imports rose less sharply than exports, climbing 26.1% to 5.18tn yen. As a result, the country's trade surplus rose to 687bn yen.
"We previously saw a robust, V-shaped recovery in exports after the financial crisis," said Atsushi Kamio at the Daiwa Research Institute.
"Now the speed of the recovery is tapering off".
Analysts warned that austerity measures introduced by governments around the world to reduce debt levels would hit Japan's exports later this year, while a stronger yen might compound the problem.
"Impacts of the strong yen will likely become more visible from July to September as exports to Asia will likely show no further growth and would not help expand export volumes, while the US economy's dim outlook keep the yen on an uptrend," said Junko Nishioka at RBS Securities.
The outlook for the Japanese economy remains uncertain.
Last month, Japan's new Prime Minister, Naoto Kan, said the country was at "risk of collapse" under its huge debts.
The country's central bank also announced a scheme to offer 3tn yen in low interest loans in an effort to spur economic growth.