European banking shares rise after stress tests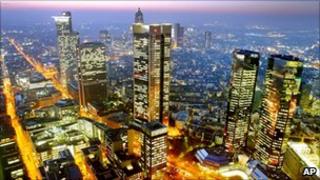 Bank shares have risen across Europe as stock markets gave a largely positive response to Friday's stress tests.
In the UK, shares in Lloyds Banking Group and Barclays rose by more than 3%, while in France, Societe Generale climbed 5.2%.
Seven of the 91 European banks that underwent stress tests failed. They included five Spanish banks, one German bank and one Greek bank.
The tests assessed the ability of banks to withstand future financial crises.
'Degree of comfort'
There had been concerns that, if too many banks failed, confidence in the already fragile European banking sector would be damaged.
Equally, however, there were fears that if too few banks failed, the tests would be dismissed as being too easy.
All eyes, therefore, were focused on how stock markets and banking shares would react on Monday.
"The results of the European banks' stress tests have provided some degree of comfort to equity markets," said Bernard McAlinden at NCB Stockbrokers.
In the UK, Barclays bank rose 4.5%, Lloyds gained 3.9% and RBS climbed 3%. In France, BNP Paribas added 2.4% and Credit Agricole rose by about 3.1%, as well as SocGen's strong gains.
The euro also boosted by the test results, gaining almost a cent against the dollar to $1.2992. Against the pound, the euro was also higher at 83.85 pence.
"[The critics'] main argument was based on the assumption that the test had been too easy and, therefore, did not provide a real indication of the situation of the financial sector," said Ulrich Leuchtmann at Commerzbank.
"The markets are obviously not sharing this concern: at prices above $1.29, the euro seems strong."
Failed banks
The Spanish banks that failed were Diada, Espiga, Banca Civica, Unnim and Cajasur.
But despite the fact that five of the seven failed banks came from Spain, Spanish banking shares rose on Monday.
In Greece, where ATEbank failed the stress test, bank shares also climbed.
The exception was Germany, where Hypo Real Estate failed the test. Banking shares slipped after a report in the Financial Times said European regulators would investigate six banks accused of not fully disclosing details of their sovereign debt holdings.
One of the banks cited in the report was Deutsche Bank - which saw its shares recover from early falls to finish 1.3% ahead.
The German government said it was pleased with the market reaction to the results of the stress tests.
"It's a very encouraging signal that we achieved the objective of the tests," said Jeanette Schwamberger at the Finance Ministry.