AstraZeneca faces pension strike ballot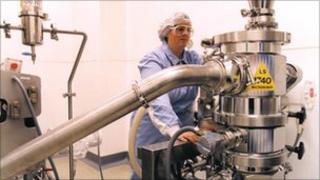 More than 600 workers at AstraZeneca's Macclesfield drug factory are holding a strike ballot over changes to their pension scheme.
The GMB trade union said its members were "horrified" that their pensionable salaries would be frozen forever if they stay in the current scheme.
The company said its plan would make the scheme "sustainable, equitable and affordable".
The ballot lasts until 16 August and could lead to selective strikes.
The company's defined benefit (DB) pension scheme has about 2,500 active members and has been closed to new recruits since 2000.
Since then new joiners have been offered membership of a defined contribution pension scheme instead.
The company said that despite putting in £645m in extra contributions during the past decade, the DB scheme still had a deficit of £1.4bn.
"This level of pension deficit and financial risk to the company is unsustainable," said a company spokesman.
Workers 'horrified'
After consulting with staff for 90 days earlier this year, the company pressed ahead with offering its active DB members a choice.
They can continue to pay in but see their pensionable salary frozen at current levels from now on, or they can move to the DC scheme, and with much higher company contributions compared to those given to current active members of the DC scheme.
Alan Black, national office for the GMB trade union, said his members at the company were outraged by the firm's plan, which came into force at the start of July.
"They are absolutely horrified - AstraZeneca is incredibly wealthy, its profits rose last year by 12%," he said
"This has come as a real shock to the workforce," he added.
Members of the Unite trade union who work at the plant will also be balloted for strike action soon.
"It is our firm belief that any form of industrial action would not be in the interests of our employees or AstraZeneca's business in the UK," the company said.
The Macclesfield plant is the company's second largest world-wide and makes the anti-cancer treatment Zoladex, used in the treatment of prostate and breast cancer.