Ocado shares flat as official trading starts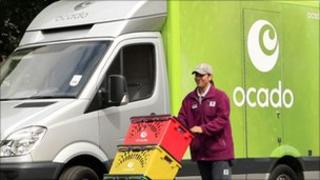 Shares in Ocado, the online service that delivers Waitrose goods, have begun their first day of official trading at 160p.
Investors paid 180p per share, but unofficial, grey market trading last week saw them fall to 160p, giving holders an instant loss.
Ocado's owners and advisers originally thought they could raise between 200p-275p for each share.
Lack of interest forced them to drop the price at the last minute.
Many analysts said the original price range was too high as Ocado has never made a profit.
Ocado customers who spent more than £300 this year were eligible to buy the shares and thousands of customers had signed up for them by the end of a deadline a week ago on Sunday.
That would have raised between £5m-£10m at the then price of between 200p-275p.
But when the price was cut to 180p, they were given a new chance to buy the shares at the lower price, although there was little incentive to pay that when unofficial trading had them priced well below that at 160p.
Question mark
Ocado's sales have been growing and the service, which puts strong emphasis on quality and reliability, is well-regarded by consumers.
But it has yet to make a pre-tax profit.
Its business model differs from rivals in that its goods are picked from a purpose-built, central warehouse.
Competitors such as Tesco, Asda and Sainsbury's fill online orders from stores.
Some analysts believe the share has further to fall than today's 160p.
One retail analyst, Philip Dorgan, at Ambrian, said recently that a fair valuation would be less than £500m, suggesting a price of about 120p a share.